Con Pane is my favorite spot in San Diego for French breads.
Upon entering, you are greeted with a display case of fresh breads. In addition to breads, they also offer a cafe menu and some sweets too.


I crammed as much bread into my body as possible when I went to Paris this past summer. One of my favorite memories is visiting this small bakery nearby our hotel, ordering a bunch of fresh baked breads, and just strolling through the streets of Paris munching on a loaf of cheese bread.
On this particular visit we bought some breads to-go.
Epi


I absolutely adore epi bread, which is shaped like stalks of wheat. They are like tiny french bread loaves, though with less of the soft interior and more of the hard and crunchy exterior.

Chocolate bread

One of the recipe projects I am currently in love with is homemade fruit leather. It's so easy to make, it tastes great, it's a very easy way to use up a lot of fruit, it's cheaper than buying fruit leather, and it makes nice gifts too.
Persimmons are currently in season and my mom has a giant persimmon tree that always produces more fruit than we can consume. We usually make dried persimmon slices, but this year I thought I'd try making fruit leather.


These were so easy to make and taste just like the ones you can buy from the store. I brought some home to my family and they loved it too. They even gave me another bag of persimmons on this recent trip home so that I could make them more.
Merry Christmas everyone!
I hope everyone is having a safe and fun holiday. DH and I have been busy busy. First a trip to his parents, then one to mine, and of course we had to have our own celebration as a married couple too.
This is the first Christmas DH and I are celebrating together. I'm really really into Christmas. I'm the one who still insists we put up a tree every year in my house even though my siblings don't really care to.
So of course, I insisted that DH and I needed a tree.
It ended being quite an experience decorating our first tree. We bought a fake tree much bigger than we originally anticipated. And had 1400 branches to separate…

For my family's tree, I do most of the decorating and deciding of where the ornaments go, since no one else really cares. From this first Christmas together, I learned that DH is quite particular about decorating. He spent most of the time moving around my ornaments.


I fell in love with these Hello Kitty ornaments, which manage to be cute but also elegant. A set of 5 was only $5 at Sears.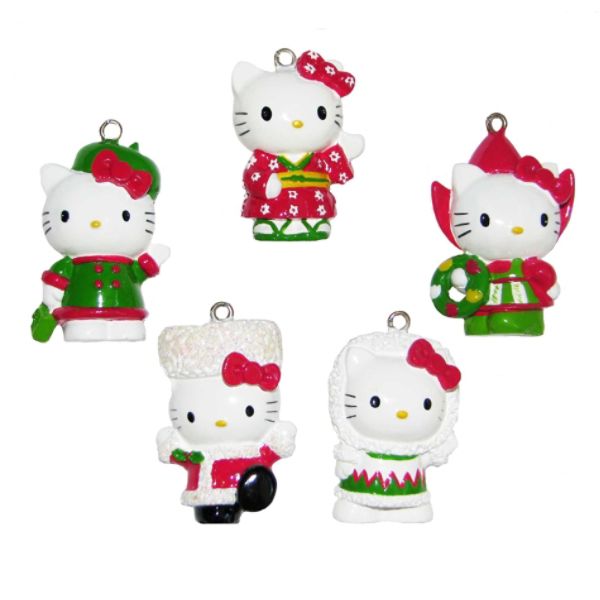 I didn't have any dogs around to dress up, but when I arrived home to my parents, we tried to dress up Mochi. Unfortunately, her adorable reindeer outfit no longer fits. We managed to put a Christmas sweater on her though. She's been so cold she didn't mind the sweater, but she absolutely hates the camera and refuses to gaze at me when I'm taking pictures of her.

Of course, no holiday would feel complete without a lot of eating…