With pumpkin season in full effect, it seems like all of the frozen yogurt shops are offering a pumpkin frozen yogurt flavor. But it's also quite easy to make your own at home.
Continuing with my candy theme, I was recently given a year supply of Trident gum as part of their See What Unfolds Live campaign.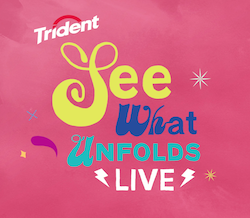 Content and/or other value provided by our partner, Trident.
 I usually choose Trident gum when I purchase gum mainly because they offer so many different flavors compared to other brands and I like variety. I always have a pack of gum in my purse to cure sweet cravings or when in need for a quick breath refresher, so I was happy with the offer of receiving a year supply of gum.
Once I received the gum, I thought this one might be a fun one to share with others. I received 4 different flavors, with 12 packs of each. I've decided to keep one and give away the rest.
I had a lot of fun sharing my current yogurts of the moment a few weeks ago, and got a lot of suggestions for items to try. With Halloween right around the corner, I thought I'd share the current candies we've recently been eating and are loving.
Extra Crispy Kit Kat bars

If you like the crunchy wafers in Kit Kats, these extra big ones provide even more crunch since they are significantly taller and wider than the original. I love giant chocolate candy bars and I recently found these at the Costco Business Center, which is a candy heaven. We first discovered all types of candy available there that is not available at the regular Costco stores when shopping for candy for the candy bar at our wedding. We've since been back many times just to try variations and flavors of some of our favorite candies which we didn't even know existed.


In comparison, the one next to it is a regular sized (not snack size) dark chocolate Kit Kat stick.
Haribo Mini Gummy Bears


My favorite gummies are Haribo ones. They are chewier and have a more intense flavor compared to the other brands in my opinion. Only recently, I discovered that they make mini versions of their classic gummy bears. I got them from Amazon. The mini bears are small and cute, though the faces aren't as well defined in their squished down size. I love mini things. I also like that these come in individual small packets so I don't end up eating 30 gummies in one sitting.

Nestle Crunch Crisp

It's like a fusion of Kit Kats with Nestle crunch bars. I was so excited when I saw these. Inside, there are indeed thin wafer layers and the top of the chocolate bar is still covered with crispy rice. The combination was actually almost too sweet for me, but I enjoy this in small amounts. Despite the large bar size, there's actually just two small snack size bars in each pack. I also found these at Costco Business Center but I imagine they are also available elsewhere.