If you enjoy the sushi bar experience, I highly recommend Nana San next time you're in the Orange County area,.
DH and I are always on the lookout for reasonably priced, fresh, high quality sushi. We recently had dinner at Nana San and had a wonderful experience.


For the most part, a lot of the sushi joints DH and I end up visiting have a pretty humble interior. From the outside, Nana San appeared to be one of those places. But inside, the restaurant is shiny and sleek, which normally would have me worried about the prices, but Nana San manages to be one of the rare places that is super popular, shiny and sleek, and still serves reasonable priced high quality fish.
No reservations are taken. We arrived about 10 minutes after they opened, and the bar was completely full. The waitress told us there wouldn't be any open seats for a good 40 minutes, when the first dinner group finished and offered to call us for the second seating. So we went off and did some shopping, then got a call about 40 minutes later to return. When we returned, they had our seat ready at the bar, and once again the restaurant was crowded with people waiting for a seat.


Even though the bar area is small, there are three sushi chefs working, which expedites the dinner experience.
Marinated Cucumber Salad


We started off with some complimentary marinated cucumber salad while we perused the daily special board menu.
Kampachi


The fish practically melted in my mouth. It was a great way to start the meal. Nana San makes their nigiri sushi with warm rice, which I always prefer because it adds a nice contrast to the cold raw fish and seems to make the fish flesh softer.
Red Snapper

Spanish Mackeral

Sea Scallop


This was ever so slightly seared, letting you experience both the raw and cooked flavors of scallop.
Conch
With pumpkin season in full effect, it seems like all of the frozen yogurt shops are offering a pumpkin frozen yogurt flavor. But it's also quite easy to make your own at home.
Continuing with my candy theme, I was recently given a year supply of Trident gum as part of their See What Unfolds Live campaign.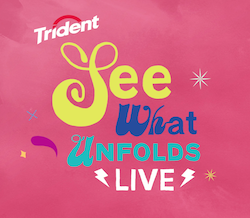 Content and/or other value provided by our partner, Trident.
 I usually choose Trident gum when I purchase gum mainly because they offer so many different flavors compared to other brands and I like variety. I always have a pack of gum in my purse to cure sweet cravings or when in need for a quick breath refresher, so I was happy with the offer of receiving a year supply of gum.
Once I received the gum, I thought this one might be a fun one to share with others. I received 4 different flavors, with 12 packs of each. I've decided to keep one and give away the rest.